A panel of entertainment
A stay at the Farm of Simondon, in the Ardèche department, means several days of relaxation and entertainment.
You will have the opportunity to practice your favourite sports and hobbies, have fun with family or friends, admire a picturesque landscape or set off to explore the estate.
We do our best to offer you an unforgettable stay with activities specially designed for you.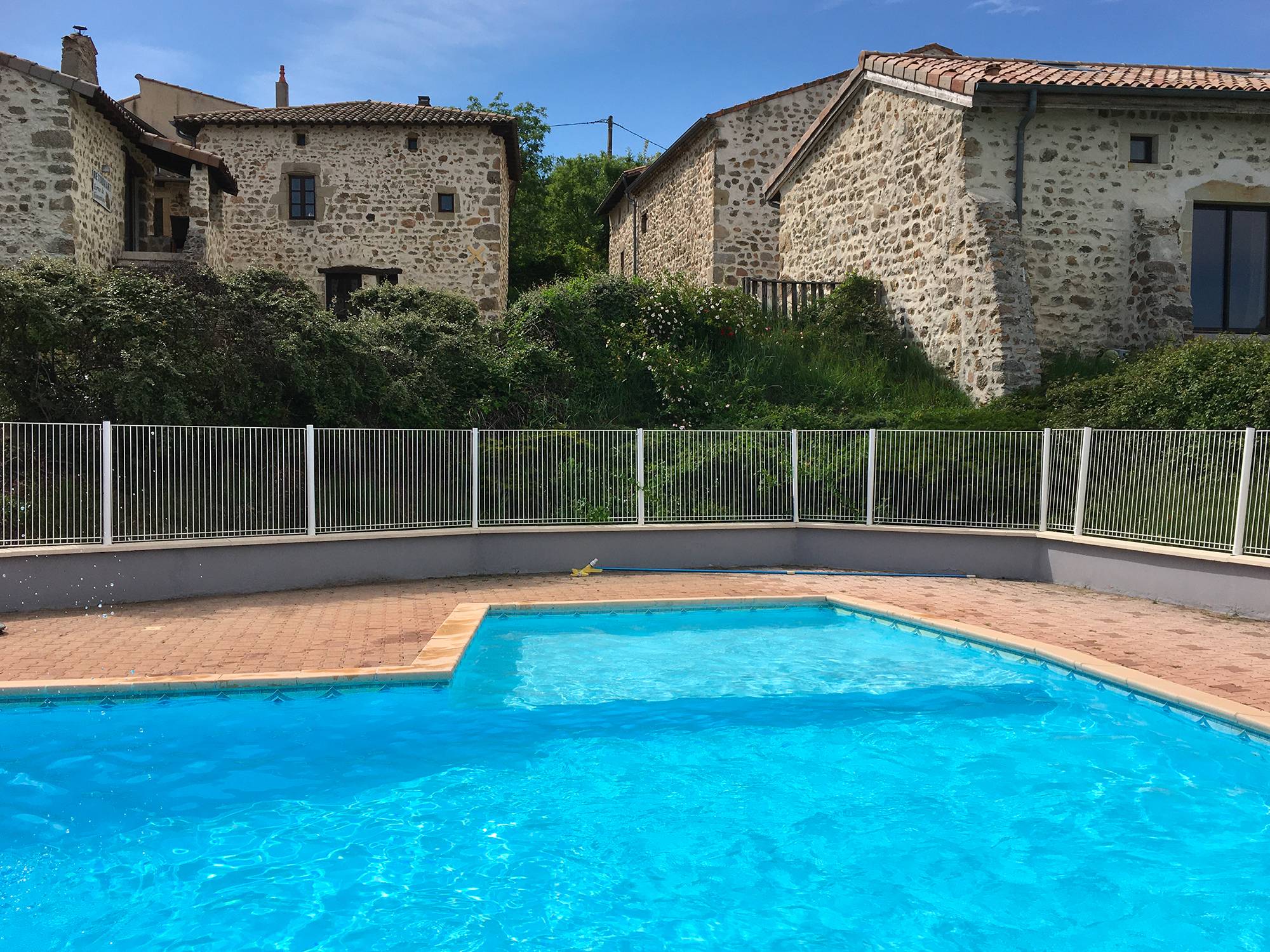 The swimming pool

In season, from May to September (depending on the weather), you will enjoy the heated swimming pool and its solarium equipped with deckchairs.
Benefiting from an exceptional orientation, its access is free from 9 a.m. to 8 p.m. (please respect the rules displayed at the entrance).
Minimum depth 0.50 meters and maximum depth 2 meters.
Swimming remains the sole responsibility of the parents or accompanying persons, please ensure that you monitor access and the bathing of your cherubs and respect the swimming pool equipment.
Playground
Please note: play activities remain under the supervision and full responsibility of the parents or those accompanying the children. Please take care to preserve the equipment lent and made available.
• Bowling green*
• Soccer field*
• Badminton*
• Trampoline: free and free access (maximum 3 children at a time)
• Sandbox
• Swing and slide
* Equipment available at the reception
Game room

Children remain under the responsibility of their parents in all the leisure activities we offer.
Please take care to preserve the equipment lent and made available.
• Table tennis
• Baby foot
• Library for the calmer...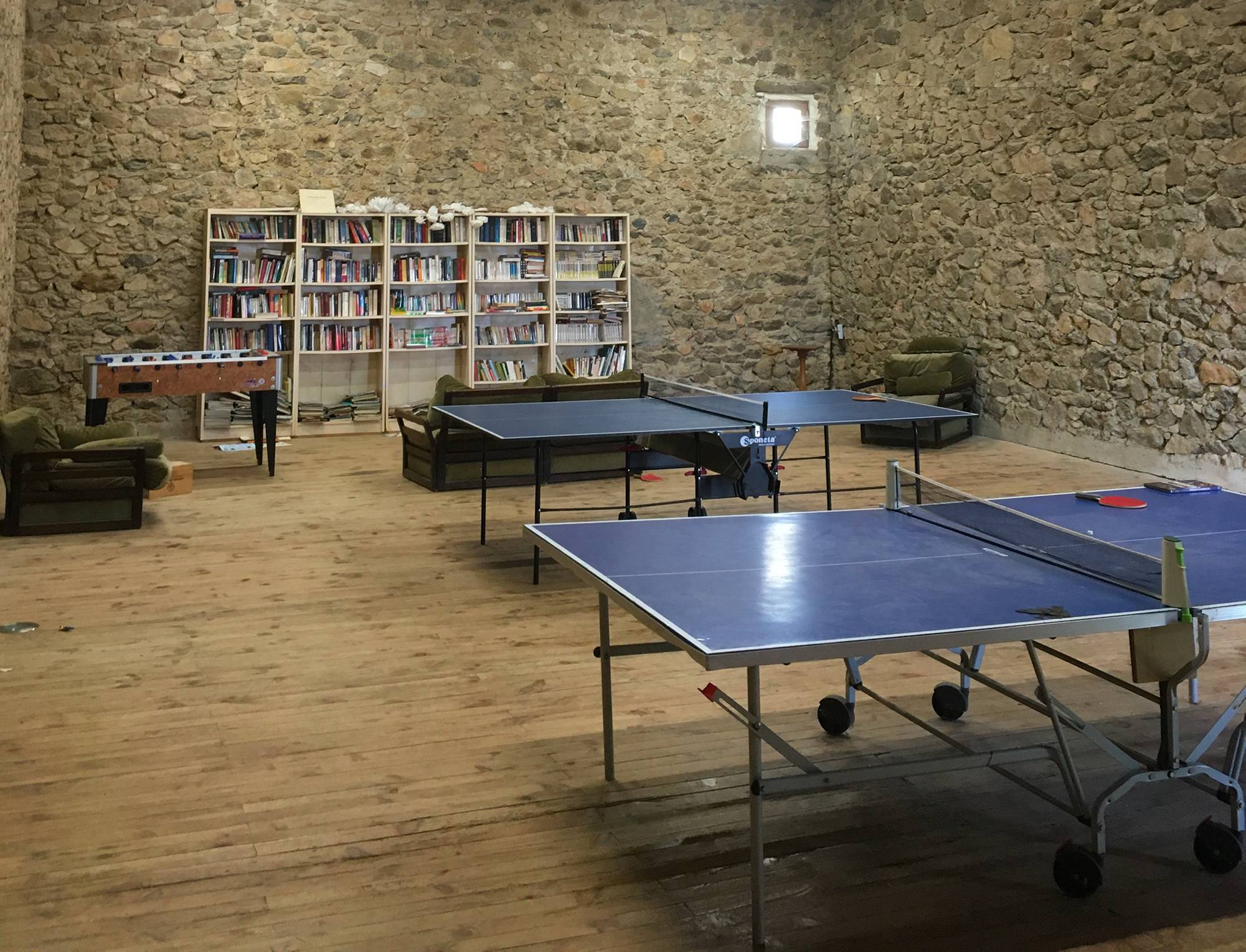 Outdoor activity

Sports and nature lovers can also explore the surrounding area, on foot or by bike, from Simondon:
• Jogging, hiking and walks.
• Circuits and loops departing from Simondon,
• Maps and routes from 1 to 8 hours available at reception,
• access to the GR 42!
• Mountain bike or electric bike rides on the paths and roads around PLATS.
Grocery Service (July and August)

• Fresh vegetables
• Farm-fresh eggs
• Local specialities: LAFUMAT charcuterie and Ardèche cheeses from the FERME DE RAFFIN
• Ice cream: classic and artisanal from DINGER
• Artisanal aromatic products from our neighbors GRAINES DE BUISSON (syrups, infusions, gomasio, Provençal herbs, etc.)
• Small repairs (pasta, chips, etc.)
Breakfast

BRUNIÈRE bread and pastries distribution service in July and August (to be ordered the day before)
Coffee pod, teas and infusions
Snacking
Pizza
Croque-monsieur
Individual Quiche Lorraine
BBQ area
Fire is prohibited on the pitches.

A shared barbecue area (with charcoal) is available to you (campers and lodge guests), in order to enjoy summer grilling in complete safety. You can sit there in a friendly atmosphere, thanks to the tables and chairs at your disposal, or cook and enjoy your grilled meats at your camp!
Bar

Cold non-alcoholic drinks (water, sodas, juices, etc.)
Craft beers L'AGRIVOISE and LE LOUP BLANC (draught and bottles)
Bottles of local wines: Côte du Rhône (red), Viognier (white), Gris d'Ardèche (rosé)
Useful documents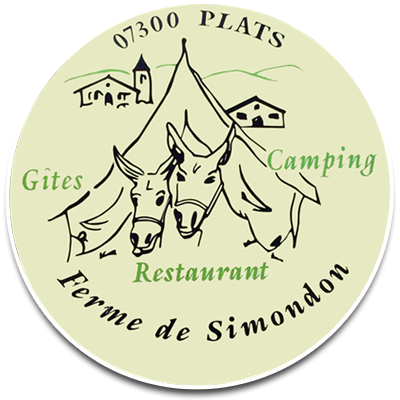 Click here